Current Conditions at Whiteface Bode Well for Upcoming Events
WILMINGTON, NY ??" Whiteface has received over 14 inches of snow since winter arrived on Friday night and snowmaking continues around the clock. The mountain currently has 2,500 vertical feet open with more on the way. 22 trails and 6 lifts will be offered by this weekend.
"Today's skiing and weather were killer. Lots of man-made powder on the steeps of Mountain Run. It was a top 10 day for sure," remarked Sandy Caligiore, Communications Director for Whiteface.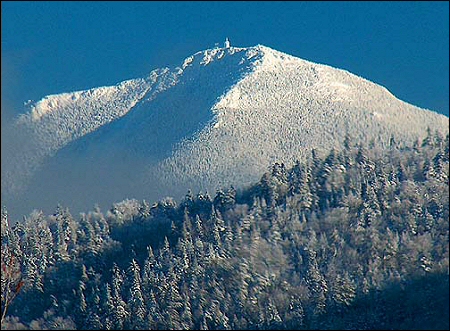 Whiteface – 12/15/2004
(Photo: Courtesy of Whiteface)
Whiteface will host a Rail Jam for skiers and boarders this Sunday. Additional upcoming highlights on the schedule include:
World Cup nordic combined skiing (combination of cross skiing and ski jumping) – Dec. 16-18
World Cup mogul skiing at Whiteface Mountain – Jan. 15
World Cup bobsled and skeleton racing – Feb. 10-14
25th anniversary of the 1980 Lake Placid Winter Olympic Games – Feb. 12-27
For more information, please visit www.whiteface.com.