EMS Randonee Night Tour To Kick Off 16th Hannes Schneider Meister Cup
Alpine ski touring, or randonee skiing, is increasingly popular in ski country, as ski equipment manufacturers produce sturdier, lighter, and more sophisticated ski gear that is equally efficient at free-heel climbs using climbing skins and descents in which the binding converts to hold the boot heel on the ski.
The 16th annual Hannes Schneider Meister Cup Race, to be held at Cranmore Mountain Resort March 2 & 3, will feature an untimed, social nighttime ski tour and dinner for skiers on randonee and telemark gear as part of the opening festivities on Friday evening, March 2.
The namesake of the race, Hannes Schneider, is considered to be the founder of ski instruction as it is still structured today, as well as an originator of the mountain resort industry. Schneider developed his techniques before the invention of ski lifts, and as a practiced and passionate backcountry skier in his native Arlberg region of Austria, used uphill alpine touring techniques daily.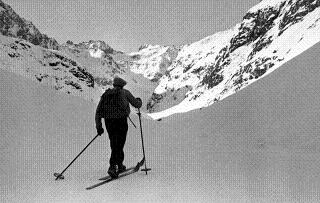 Hannes Schneider ski climbing in his native Arlberg region. Note the way his heel lifts off the ski to allow him to stride forward. Photo by Lothar Rubelt, courtesy of the Schneider Family.
In view of Schneider's experience as a mountain soldier in the First World War, and the service of his son Herbert and several of his Austrian proteges in the 10th Mountain Division in the Second World War, the Meister Cup also honors military skiers of the US Army. Units of the 10th Mountain Division based at Fort Drum, New York and the Army Mountain Warfare School of Jericho, Vermont are expected to attend the event. Veterans of the World War II 10th Mountain Division, most of whom spent their training days at Camp Hale, Colorado using randonee gear to climb on skis, will also be on hand.
EMS, whose North Conway store is a valley center for backcountry skiing equipment, will sponsor the tour, and have up to 20 pairs of alpine touring demo skis and boots available at Cranmore. Reservations are strongly suggested for the limited demos, which will include gear from Dynafit, G3, Black Diamond and K2.
Beginning at 5 PM, the EMS randonee tour will ascend a route to be selected and marked by Cranmore patrollers, and follow a designated route down the mountain's alpine trails. The Meister Hut at the summit of Cranmore will be open and hot chocolate available to participants. All skiers will be urged to make their descent by 7:00 PM so as not to miss the hearty alpine buffet that coincides with the opening reception of the Meister Cup in the newly redecorated Zip's Cafe.
The entry fee for the EMS Randonee Night Tour is $25, and includes a gift bag assembled by EMS, buffet dinner, and complimentary demo equipment if sizes are available. For demo reservations call EMS North Conway at 603-356-5433 . For event registration, call the Ski Museum at 800-639-4181 or e-mail [email]staff@skimuseum.org[/email].
New England Ski Museum
is located at Exit 34B, Interstate 93
next to the Cannon Mountain Aerial Tramway in Franconia Notch State Park .
The Museum also maintains satellite exhibits at the Eastern Slope Inn in downtown North Conway, NH, at the Intervale Scenic vista in Intervale, and at Bretton Woods Mountain Resort in Bretton Woods, NH.