Flynn, Stewart take home titles at 2nd Annual Sugarloaf Banked Slalom
CARRABASSETT VALLEY, Maine, March 11, 2012 – Thirty-four-year-old Ryan Flynn from Damariscotta, Maine, and 14-year-old Lindsay Stewart from Cape Elizabeth, Maine took first place in the men's and women's divisions today at the 2nd Annual Sugarloaf Banked Slalom.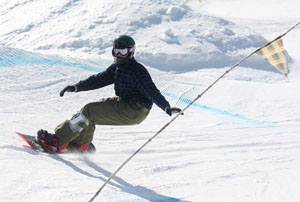 The two-day Banked Slalom is a snowboard-only, open registration event, in which snowboarders young and old compete on a winding course of banked turns down Sugarloaf's storied terrain.
Flynn finished the course of 24 banked turns in a time of 1:05.21, while Stewart finished in 1:16.87.
Rounding out the top three for men were 37-year-old Kevin McMahon from Stratton, Vermont, and 38-year-old Jack Michaud from Falmouth, Maine. McMahon also took home second place in last year's inaugural Sugarloaf Banked Slalom, finishing just behind Olympic Gold Medalist Ross Powers.
On the women's side, Miriah Chapman from Dexter, Maine, and Chelsi Christensen from North Hampton, New Hampshire finished in second and third place, respectively.
After finishing in fourth place last year, Flynn, a boat-builder and former snowboard coach at Gould Academy, became only the second champion in Sugarloaf Banked Slalom history.
"The course this year was incredible and this whole event is so much fun," Flynn said. "It was so smooth, and even though it was faster than last year's, it felt bigger. It's great to see the event keep growing like this. I'm bringing more and more people with me each year."
Based on the model of the Mt. Baker Legendary Banked Slalom, the Sugarloaf Banked Slalom is organized in part by two-time Olympic Gold Medalist Seth Wescott. Wescott did not race in this year's event due to an injury sustained on the World Cup tour earlier in the season.
##
About the Sugarloaf Resort- Located in Carrabassett Valley, ME, Sugarloaf is largest ski area in the East, and is home to the only lift-serviced above treeline skiing and riding in the East. and the number one golf course in Maine, according to Golf Digest. Sugarloaf is a member of the Boyne Resorts family of resorts and attractions. Follow: www.sugarloaf.com , www.facebook.com/sugarloaf , and http://twitter.com/sugarloafmaine .