Identical Twin Ski Racing Phenoms Train at Attitash
BARTLETT, New Hampshire ??" On December 27, U.S. Ski Team member Jenny Lathrop and identical twin Abbi spent the day training at Attitash in Bartlett, N.H. Jenny and Abbi are no strangers to Attitash, growing up in North Conway with Attitash being their home mountain and where they started skiing before the age of three. There is no mistaking their absolute passion for the sport and joy they share in working together to become great ski racers.
The sisters spent twelve years skiing at Attitash in the AAEF program (Attitash Alpine Educational Foundation) and being coached by their father Jeff Lathrop (former General Manager for 17 years at Attitash), before following in sister Christin's footsteps and deciding to attend Green Mountain Valley School and Ski Academy.
"My mom loved to ski and my dad was here at Attitash so this is where we spent our time," said Abbi about growing up skiing at Attitash.
"It was great to come out here today and have the opportunity for our dad to work with us. Grandstand was fun, a good hill, nice pitch, and the roll is good to work on – perfect for training," said Jenny who is currently preparing for a Nor-Am race in Mt. Saint Anne, Quebec. Following the Nor-Ams she is scheduled to compete in Maribor, Slovenia, her third slalom World Cup this season.
"We were thrilled to have Jeff and the girls back on the mountain," said Tom Chasse, managing director for Attitash. "They are tremendous athletes and obviously an incredible team as a family – it is an honor to have them ski with us."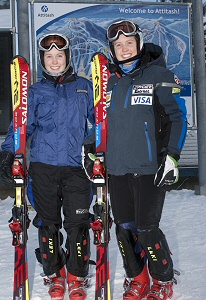 Abbi and Jenny at Attitash – December 27
(Photo: Attitash)
The twins had typically skied within a tenth of a second of each other, but Jenny placed second overall in the first Nor-Am slalom race of the season in November of 2004 and caught the attention of the U.S. Ski team coaches. Both girls studied abroad first semester of junior year in New Zealand over the summer in 2004, allowing them time off from school in November to train and compete in important early season races.
Jenny qualified for the U.S. Ski Team in May of 2005 and recently competed in her first World Cup Race on December 11 in Aspen, CO. Abbi is also an intensely competitive ski racer, currently skiing for Colby College where she took second place in the Giant Slalom at the NCAA Championship in Stowe, VT last season and fourth in the Canadian National Slalom Championships in March. Abbi plans to graduate from school this year and fully dedicate herself to ski racing in hopes to join her sister on the U.S. Ski Team.
Both girls will head to Burke Mountain next week for training with their respective teams, Jenny with the U.S. Ski Team and Abbi joining Ski Racing International before heading back to Colby in February. They are ecstatic with the opportunity to be on the hill together. "This is the first time we have been apart for more than two months in our lives. I love the entire experience of being on the tour but if Abbi can join me at some point that would make it amazing," said Jenny.
Being identical twins the girls have the unique ability to coach each other by explaining to one another what does and doesn't work. Jenny claims, "We have the same body type so I can feel a move or make a break thru and I explain it to Abbi and she can go and execute it."
"Its like an accelerated learning program. I can watch Jenny take a run and watch how she carves a turn and know that I will respond the same way. One of us may get advice from a coach and to share that with the other we use certain trigger words – sort of our own translation or language that we understand," said Abbi.
"We here at Attitash look forward to supporting and watching the Lathrop twins ski racing careers evolve. We wish them the best in their quest to be the dynamic duo on the U.S. Ski Team," said Tom Chasse, managing director at Attitash.
Attitash is in the White Mountains of New Hampshire on Rt. 302 in Bartlett. During the winter Attitash offers 2 mountains with 70 trails and 22 miles of skiing and riding on 280 acres. In the summer guests can enjoy North America's longest Alpine Slides, waterslides, a scenic sky ride, lift-serviced mountain biking, climbing wall, Trampoline Thing, horseback rides, driving range and skate park.