Killington Makes Snow: Opening Monday, November 8
KILLINGTON, VT ??" Signaling the start of the eastern skiing and riding season, Killington Resort in central Vermont has commenced snowmaking operations ahead of an anticipated opening on Monday, Nov. 8, 2004 at 9 a.m.
Colder temperatures arrived in the region overnight allowing the most extensive snowmaking system in North America to begin laying down a base of snow that will continue to grow with a favorable forecast. For the third year in a row Killington will offer top to bottom terrain at the outset of the season via the K-1 Express Gondola and North Ridge Triple Chair. A mini terrain park with an assortment of features will also be open on the first day of operations.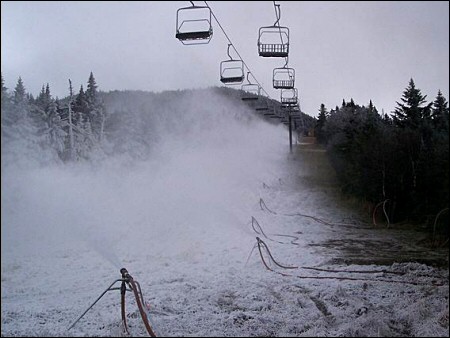 Snowmaking on Killington's Rime Trail – November 3, 2004
(Photo: Courtesy of Killington Resort)
"We're underway with snowmaking and opening day is looking to be even better than last year," said Allen Wilson, Killington's president. "This is our first real chance to show guests the new Killington experience. We're stepping it up with our $2 million in snowmaking upgrades and major improvements to our base facilities. There is an exciting new look and feel to Killington."

November 3, 2004 Killington Snowmaking Operations
(Photo: Courtesy of Art in Killington, Vermont)
Opening day terrain will be for intermediate and advanced level skiers and riders only, however with the current forecast Killington plans to have terrain for all abilities by weeks end. Killington typically offers nearly 80 trails for all ability levels during the Thanksgiving holiday.
Lift tickets on opening day will be $39 for adults, $35 for young adults and $29 for juniors and seniors. Early season conditions are subject to change and guests should visit www.killington.com or call the Killington Snow Phone at (802) 422-3261 for the latest updates.