Killington Resort Begins Snowmaking Operations in Preparation For Opening Day
KILLINGTON, VERMONT — Killington Resort has begun snowmaking operations in preparation for the 2007-08 ski and snowboard season.
Snowmakers fired up the first guns of the season Sunday afternoon on Rime, Reason and Double Dipper trails on the upper sections of Killington Peak. Snowmaking will continue as conditions permit in preparation for opening day, tentatively scheduled for Friday, Nov. 16.
"Right now we're just blowing piles of snow and stockpiling," said Dave Lacombe, snow surfaces manager for Killington Resort. "The forecast this week is looking favorable for snowmaking, especially the latter part of the week and throughout the coming weekend."
When the season opens, Killington Resort will offer more difficult and most difficult terrain and an expanded early-season terrain park. All skier/rider services will be available from the K-1 Lodge.
Killington, which covers more than 50 of its 87 miles of terrain with snowmaking, increased its Low Energy snow gun arsenal another 10 percent for the 2007-08 season. Additional snowmaking upgrades for the coming season include rebuilt pump houses, hydrants, pipe replacement and computer hardware and software upgrades to snowmaking control to improve overall system efficiency.
In addition, this past summer crews also increased trail mowing, clearing and vegetation cutbacks on more than 600 acres of skiing and riding terrain. These improvements, combined with a fleet of 20 state-of-the-art snowcats, will offer Killington guests a high quality snow surface with improved snowmaking coverage and machine groomed terrain.
About Killington Resort – The largest ski and snowboard resort in eastern North America, Killington features diverse terrain, an expansive lift network, the most extensive snowmaking system in the world and numerous off-mountain activities, including apr??s, dining, shopping and lodging options. www.Killington.com.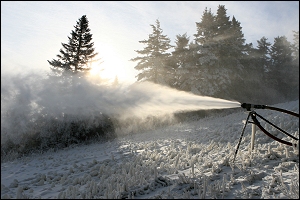 Killington fires up the snowmaking system for the 2007-2008 season
(Image: Killington Resort)