Mount Snow Fires Up the Guns in October
Mount Snow Fires Up the Guns in October
WEST DOVER, Vermont — The Mount Snow snowmakers just couldn't wait to play with their new toys. Peak Resorts, Mount Snow's new owners, invested over $3.5 million in fan gun technology this summer, including 101 shiny Super Polecats. As soon as the temperatures dipped Sunday night, they flicked a few switches and created a snowy playground for skiers and snowboarders.
"We decided to make some snow on Launch Pad at the base of the mountain, so that people could see it, but more importantly, so people could ski and ride. If you don't mind a little hiking, you can make some turns for free, and even hit a rail and a box. Of course, it's only available while supplies last," laughed General Manager Kelly Pawlak.
Mount Snow is looking at an early to mid-November opening for the ski season. For information on packages and tickets, visit mountsnow.com or call 1-800-245-SNOW.
Peak Resorts operates 11 ski areas and two golf courses in six states.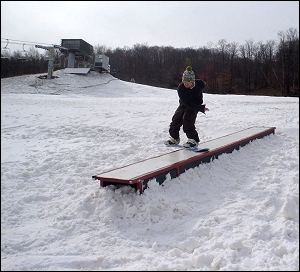 Snowboarder enjoying some October jibbing at Mount Snow
(Photo: Mount Snow Resort)