Mountain Creek Launches New Website
VERNON, New Jersey ??" If you haven't stopped by mountaincreek.com recently, you may not be aware that it has been completely rebuilt, featuring new sections, improved e-commerce functions and more interactive opportunities for our guests. The website is now powered by Intrawest's content management system, which will not only give the resort the ability to make more immediate content updates, but also creates standard page layouts and navigation across all Intrawest resorts, making it easier for guests to find their way through any Intrawest resort website.
The new design will feature seasonal themes and images, while maintaining a consistent layout and feel. It is broken down into menus including:
Deals, Lodging, Things to Do, Lessons & Rentals, The Mountain, Parks & Pipes, Tickets & Passes, My Mountain
There is also a Photo of the Day section, Latest News, Hot Deals, Hot Clips, a Media Room and more. New sections include:
The Village – a peek into the future of Mountain Creek, where guests can stop by to check out the development plans for Vernon Base
In My Opinion – a forum created specifically for our guests to share their opinions and ideas with us
Jobs – all the job openings from full time positions to internships and volunteer opportunities
Hot Deals – stocked with all the best deals, discounts and promotions
Lodging – features expanded information on our growing hotel offerings at Black Creek Sanctuary and the Appalachian, and will soon allow online reservations for both
Insider Info – features insider tips like the best times to ride or ski; the best places to park; the best deals, and more
Ski Racing Program – will feature coverage our respected race programs
Meetings & Conferences – will detail information about booking meetings, conferences and other special events in our new facilities at the Appalachian, from corporate meetings to weddings and reunions
Media Upload Tool – a custom media upload tool for guests to share their own mountain creek videos and photos with us and other online guests
Additionally, a new Media Room has been created featuring general information on the resort, the latest press releases and hi-resolution photos ready to download.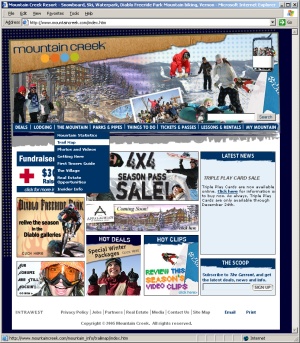 The new mountaincreek.com
Visit the new Website at www.mountaincreek.com.