N'east Magazine Releases Their Third Issue: Fall/Winter 05; On Newsstands Late October
PORTLAND, Maine ??" N'east Magazine, the source for adventure sports, travel and lifestyle in the northeast, is proud to announce the release of a super Fall/Winter 05 issue.
"We saw the opportunity to fill another niche in the northeast market by showcasing two seasons in each issue; Fall/Winter, Winter/Spring, Spring/Summer etc. This allows N'east to speak to wider audience and meld the ever-changing seasons into one fluid issue," says Publisher, Jim McGinley.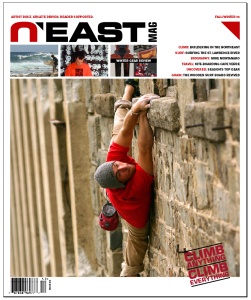 N'east Magazine
Fall/Winter 05 Issue
(Photo: Mike Shore)
McGinley continues; "The slight shift in this schedule also allows us to build into the 06 production year an awesome Photo Annual in the fall. This "collectors edition" issue will feature an oversized trim and even heavier stock ??" and of course ??" amazing photography from regional artists."
In order to stay true to the fall component of this issue, N'east chronicles a group of "cult" climbers that redefine the sport of climbing. Climb Anything, Climb Everything takes the cover-shot and provides an honest and edgy look into the hidden sport of buildering ??" that's not a typo??В¦"buildering", climbing buildings. Photographer, Mike Shore, captures this elusive sport while Anne Skidmore, along with comments from the climbers, helps to illustrate how these athletes climb what was never meant to be climbed.
A 12-page winter gear review is also a large focus in this issue. N'east Magazine's Adam Baillargeon; "This review is essentially a gear junkie's dream come true. Whether you are on two skis or one board ??" on-hill or in the backcountry ??" this review has everything that is new and exciting for this winter season. If this doesn't get you in the mood for winter ??" move to Florida."
The relocation of the N'east headquarters to Portland, Maine from Cape Cod is finally complete. Creative Director, Seth Balliett; "Portland offers N'east a more central location for the events that we sponsor and attend throughout the region. It also makes it really easy to drop everything when the surf is up ??" get in a quick session and get back to work."
N'east will be attending the following events during this issue's on-sale period:
N'east can be found at Borders, Barnes & Nobles, Sports Authority, REI, and Eastern Mountain Sports ??" as well as over 150 retail shops across the northeast.
For more information on N'east Magazine including online subscriptions, articles, and retail locations, go to www.neastmagazine.com.