Next Snow SEARCH Event Qualifier Results at Pats Peak Ski Area
HENNIKER, New Hampshire ??" Pats Peak held their first Sports Illustrated For Kids Next Snow SEARCH Event Qualifier on Sunday, January 30, 2005.
The turn out for this event was excellent with over 50 participants showing off their skills on the NASTAR course, in the Turbulence Terrain Park and in the surprise Karaoke event. It was tough competition but Sam Bateman came out the winner. Sam has won a free trip to Keystone, Colorado, to represent Pats Peak Ski Area at the Next Snow Finals, February 11-13, 2005. Watch for Sam during the Keystone Final Event airing on NBC Sports on March 5th from 2-3 pm EST.
Top 3 finishers at the Next Snow SEARCH at Pats Peak
First Place: Sam Bateman of Leominster, MA
Second Place: Thomas Joy of New Boston, NH
Third Place: Ryan Peel of New London, NH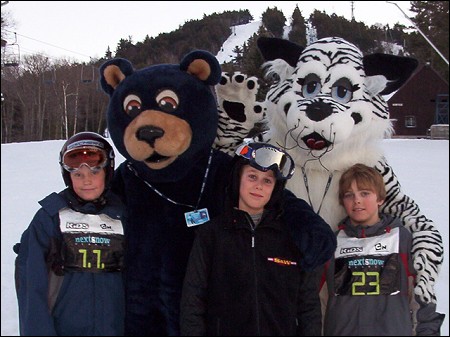 First Place: Sam Bateman of Leominster, MA
Second Place: Thomas Joy of New Boston, NH
Third Place: Ryan Peel of New London, NH
(Photo: Courtesy of Pat's Peak)