Okemo's F-10 Poma Lift Receives a Major Face-lift
LUDLOW, Vermont ??" The excitement surrounding the 2005/06 season is building. And…building is just what Okemo's Mountain Operations team is doing to prepare for the winter ahead, with the addition of several new trails and a replacement lift.
History is in the making this season and it all starts with the F-10 Poma lift. Forty years ago the F-10 Poma, a platter-pull style lift, located at the base of the mountain was installed. This surface lift was able to carry 400 skiers per hour up the 500 foot-long beginner hill. With only two lift towers, the F-10 was easy to maintain, but with the ever-changing trends of the ski industry, the lift lacked the capability to carry both beginner skiers and snowboards.
Okemo's Mountain Operations team has the perfect remedy. Construction is underway to replace the aging F-10 Poma with a state-of-the-art carpet lift. The new F-10 Carpet Lift will be situated in the same location, but will enable novice skiers and snowboarders to access the learning area and lift network with ease and begin the thrill of downhill even faster.
This is just a preview of what's to come for the 2005/2006 winter season. Be sure to stay in touch with www.okemo.com for more updates.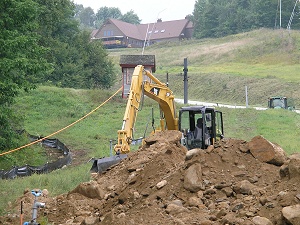 F-10 Liftline Work
(Photo: Okemo Mountain Resort)