Okemo's Jackson Gore Trail Network Readies to Open
LUDLOW, VT ??" Okemo's newest mountain peak and terrain is preparing to open for the season on Friday, December 17. Snowmaking and grooming operations have been running non-stop to blanket trails like Blue Moon, Upper Limelight, Lower Limelight, Sunset Strip and Quantum Leap in preparation for their season opening.
All of the skier/rider services and amenities at Jackson Gore will be "ready to roll", including The Roundhouse, a 390-seat food court, located on the first floor of the base lodge, lift ticket windows, Day Care Center, Snow Stars, Learning Center lessons, Rental/Repair Shop and Snowsport Shop. Visitors can park at the new area base to start their day and hop on the Coleman Brook Express and Jackson Gore Express Quads to access the new trails and main mountain.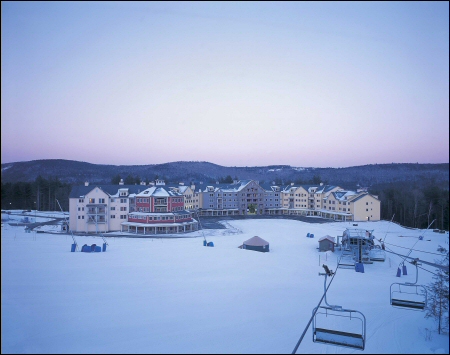 Coleman Brook Express Quad with the Jackson Gore Inn
(Photo: Courtesy of Okemo Mountain Resort)
The Jackson Gore access road is conveniently located two miles north of Okemo just past the junction of Route 103 North and Route 100 North. Okemo skiers and riders can now choose between two base areas.
Skiers and riders should stay in touch with www.okemo.com or call the 24-hour Snowphone at (802) 228-5222 for the latest updates.