Parks, Pipes and Glades at Okemo Mountain Resort
LUDLOW, VT ??" The stage is set for action and adventure at Okemo Mountain Resort with numerous Terrain Parks, the massive SoBe Super Pipe and a Vert Wall that are all open to skiers and riders this season.
Okemo's Parks and Pipes crew had a vision for the 04/05 season that began by revamping the existing boxes and rails to give everything a fresh new look. Next, they created new jibs (25 existing and 11 new.), added even more features and constructed a huge Vert Wall at the bottom of the Nor'Easter Super Park. Finally, they assembled a strong Park & Pipe Ranger crew with loads of experience. The result is lots of high-flying action and fun.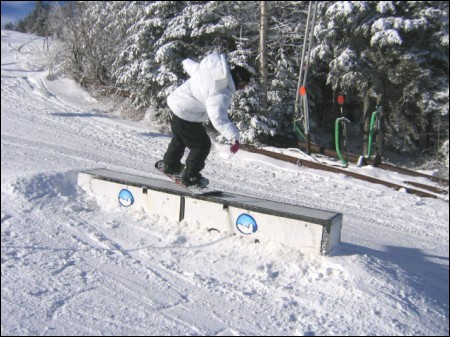 (Photo: Courtesy of Okemo Mountain Resort)
Okemo's Parks:
Nor'Easter Super Park: The longest park containing four table tops varying from 20 ft to 40 ft in length, 2 rails, a step-up table and 1 box. A 20 ft by 20 ft The Vert Wall stands at the base of the park.
The Dew Zone: Located next to the SoBe Superpipe, features various sized rails, boxes, tabletops and a picnic table.
Blind Faith Terrain Park: Located in the South Face area, is a park with 20 to 50 ft. tabletops, has rollers, various boxes and rails and is used for slopeside competitions.
Hot Dog Hill Mini Park: Located just below the mid-mountain Sugar House Lodge, is a great beginner park containing smaller rails & boxes and smaller air features.
Jackson Gore Snowskate Park (coming soon.): Located in the Jackson Gore base will feature smaller air features and mini rails & boxes. The park is walk-up accessible, but guests using it must have a lift pass. Snowskate rentals are available in the Atomic Demo Center in the Jackson Gore base.
Okemo's Pipes:
SoBe Superpipe: Located in the Dew Zone, measures 500 feet in length, with walls extending 19 feet high and is maintained by a Zaugg Pipe Monster. The Superpipe is serviced by its own lift, The Pull.
Hot Dog Hill Mini Pipe: Located in the Hot Dog Hill Mini Park, is ideal for kids and beginners just starting out.
Tree Skiing. It's An Unexplainable Phenomenon
There has always been an unexplainable phenomenon that draws advanced skiers and riders of all ages (especially kids) to the trees. At Okemo, gladed trails like Outrage, Double Diamond, Forest Bump and Supernova provide a sense of freedom, thrill and adventure for advanced skiers and riders. Whistler and The Narrows offer adventure for intermediate skiers and riders. But, at Okemo kids rule.
Kids' Trail Map & Guide to Kids' Glades:
Okemo has taken gladed skiing one step further exclusively for kids with the addition of a new Kids' Trail Map & Guide to Kids' Glades. Several areas within the Okemo boundary have natural features and glades and Okemo's Cutting Edge Learning Center instructors have identified these areas. They worked with the natural features to create several gladed areas and have marked the entrances with a Snowmonsters sign. Kids can follow the map, look for the Snowmonsters sign and explore. There are no names attached to these glades, the Snowmonsters signs serve as their guide. Each gladed trail ends up off of Okemo's trail network, so there is no fear of getting lost. (For example some of the kids' gladed areas fall between Heaven's Gate, Exhibition and Coleman Brook; Ledges and World Cup, or Upper Arrow, Lower Arrow and Sapphire). The Kids Gladed Map is available at the Cutting Edge Learning Center. There is a special reminder for adults on each map, "Remember, these glades were created to be skied and ridden by kids. Adults and their equipment may not fit."