Pats Peak becomes Pets Peak – Donates $1725 And Pet Supplies for Needy Animals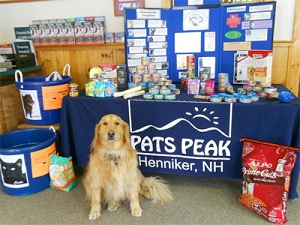 Henniker, NH, March 20, 2012 – Pats Peak became Pets Peak, Monday through Wednesday, March 12-14, 2012 as part of their March Online Only Specials. Skiers and riders were able to purchase a lift ticket online in advance to ski/ride at Pats Peak for only $30. Skiers were encouraged to bring pet items and get a $10 Pats Peak Cafe Card. For every online ticket sold, $15 of their $30 lift ticket went toward a donation to the Concord-Merrimack County SPCA or Canine Guardians for Life. Many skiers/riders brought lots of great donations including food, toys and treats for dogs and cats. A total of $1,725 was donated from the lift ticket sales.
Kris Blomback, General Manager of Pats Peak said, "We love animals so it's our pleasure for Pats Peak to become Pets Peak to help out these needy animals. We thank our guests who made the extra effort to bring supplies for the animals for this fundraiser."
"The Concord-Merrimack County SPCA appreciates having Pats Peak become Pets Peak, March 12-14. It was a wonderful opportunity for supporters and skiers alike to show how they can make a difference in the life of an abandoned animal within our community by just enjoying a day on the slopes. On behalf of the homeless animals of the Merrimack County~thank you for hosting this fundraiser!", said Shannon Camara, Manager of Communications of the Concord-Merrimack County SPCA.
"We are very appreciative that Pats Peak includes us in this promotion. Since we are a very small rescue, every single dollar donated is significant. Every penny donated goes directly towards vetting, kenneling, and transport expenses in order for us to rescue and place at least 100 wonderful at-risk dogs each year", said Judith Apy, President of Canine Guardians for Life.
About the Concord-Merrimack County SPCA:
The Concord-Merrimack County SPCA was founded in 1910 to relieve suffering and prevent cruelty to animals and to educate society on the importance of being just and compassionate to all living things. Today there is a 2,000 square foot shelter with additional administrative space in a separate building on the property. The shelter is truly a shelter, with all that word implies in providing safety from the world around us. It is a warm and caring facility for animals in transition, where staff find a loving home for all adoptable animals, no matter how long it may take. The mission is interpreted to require not only on-site care of animals but an active involvement in the community that supports us by serving as a resource to all pet guardians and as an educational voice for youth. Programs and services reflect their involvement, their commitment, and their vision. Concord-Merrimack County SPCA, 130 Washington Street, Penacook, NH 03303. (603) 753-6751 www.concordspca.org
About the Canine Guardians for Life:
Canine Guardians for Life believes in the relocation of dogs from areas of abundance to areas of need. To that end, they rescue dogs from high-kill shelters in other states, primarily West Virginia, and relocate them to new homes in New England. They are dedicated to saving and re-homing highly adoptable shelter dogs to caring, permanent homes to provide each of them with a devoted Guardian who will guarantee their canine companion a safe and loving environment for the rest of his/her life. (603) 569-9293 www.CanineGuardiansforLife.org
More about PATS PEAK:
PATS PEAK is in its 49th consecutive ski and snowboard season under the Patenaude family ownership. PATS PEAK has 22 well-groomed trails for day and night skiing/riding, 7 gladed areas, 3 terrain parks, a snowtubing park, 10 high-capacity lifts, 100 percent snowmaking, and some of the most challenging skiing in Southern New Hampshire.
PATS PEAK has a Weekday Learn to Ski and Snowboard Program for more than 8,000 kids from over 100 local schools and a Weekend Learn to Ski and Snowboard Program for adults and children. There are more than 70 Adult/Corporate Racing teams in the Adult/Corporate Racing League. Many adults participate in the weekday Adult Ski & Snowboard Clinics for all ability levels. PATS PEAK has 100% of its trails lit for night skiing/riding and is one of the state's most accessible learn-to-ski-and-snowboard mountains, with three separate beginner areas.
During the "Other Season of PATS PEAK", PATS PEAK Banquet Center is the perfect location for wedding receptions, parties, company meetings, company outings, or any social gathering!
PATS PEAK is located in Henniker, NH, just twenty minutes from Concord, forty minutes from Manchester, and ninety minutes from Boston. The latest information, snow conditions, photos and events are available at www.patspeak.com or call 1-888-PATS PEAK (1-888-728-7732).
PATS PEAK can be reached:
– By telephone at 603-428-3245
– By fax at 603-428-7821
– 24-hour snow conditions at 1-888-PATS-PEAK (728-7732)
– Online at www.patspeak.com