Pine Ridge Opening Delayed
BARRE, MA ??" The 2004-2005 opening of Pine Ridge Snow Park has been delayed due to construction on the ski shop and lodge. The planned opening has been pushed back to Dec. 26.
In August, Pine Ridge's rental building sustained fire damage after being struck by lightening. Fortunately, the fire was brought under control quickly and damage was kept to a minimum. The ski equipment, stored in another section of the building, was not damaged. Repairs to this building have been completed and the equipment was returned to it this past weekend.
The snack bar that operated last ski season and during the summer closed while the owners proceeded with renovations to the lodge. The central staircases were removed as well as a partition which separated the upper level into two areas. The existing bar was removed and a new one constructed.
Additional work on the lodge continues and should be completed in time for the Dec. 26 opening. When complete, the lodge will have a modern appearance that is more welcoming to skiers and spectators. The lounge is also expected to reopen this year.
Work has also been completed on the lift and the snowmaking systems. Wires for the lift safety and communications systems were replaced and buried, and new pipes for the snowmaking system were also installed this summer.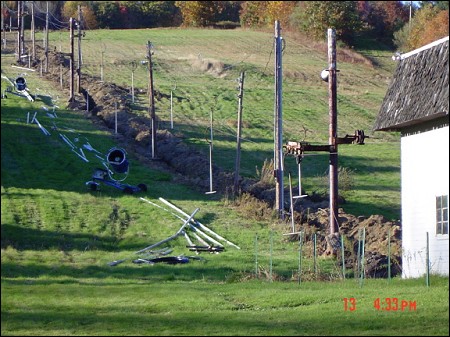 Pine Ridge Snow Park
(Photo: Courtesy of "teachski")