Portland, Maine Wins 16th Annual Firefighters Slalom Race at Sunday River
NEWRY, Maine ??" The Portland Fire Department edged out nine other teams to take first place in the 16th Annual Firefighters Race at Sunday River to benefit Maine Handicapped Skiing. Their winning time was 32.41 seconds and the margin of victory was just under a second ahead of the team from Bethel.
Firefighters in full gear raced down a giant slalom course on the Tempest Trail toting 50 feet of fire hose. The Portland win brings their streak of victories to three in a row.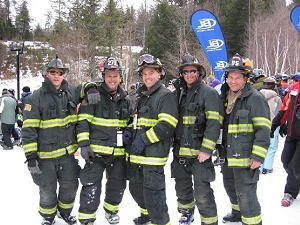 The winning team from Portland, Maine
(Photo: Sunday River Resort)
At the bottom of the course at the White Cap Base, the Eat The Heat Chili Cook-Off was underway. Six slow-cooking teams offered up their best batches of Chili to the hungry crowd and panel of celebrity judges. The chili selected as 1st place was cooked by the Sunday River Brewing Company. The People's Choice Award went to the chili concocted by the Portland Fire Department Wives.
Proceeds from the weekend events went to Maine Handicapped Skiing. In total, the weekend raised over $300,000 for the non-profit organization, which is the highest total in the history of the Ski-A-Thon, Firefighters Race, and Chili Cook-Off weekend.