Second Snowstorm Slams Into Killington
KILLINGTON, Vermont ??" For the second time this week a major winter storm has slammed into Killington Resort with 10 inches of new snow reported at the K-1 Lodge at 4 p.m.
The latest storm comes on the heels of Sunday's snowstorm which dumped more than a foot of snow atop Killington Peak (elevation 4,241′) and more than 10 inches at the K-1 Lodge at the 2,500-foot level.
"You could see up to a foot of new snow at the (K-1 Lodge) and possibly more than 18 inches at the higher elevations by Wednesday morning," said Brook Tabor, meteorologist with the National Weather Service Office in Burlington.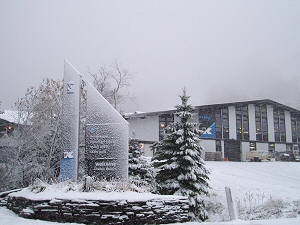 Second October Snowstorm for Killington
(Photo: Killington Resort)
With more than two feet of natural snowfall in the past 72 hours, the 2005-06 ski and snowboard season may be right around the corner.
"We are evaluating our opening day plan on a day-to-day basis," said Dave Rathbun, vice president of brand management for Killington Resort. "We will open as soon as we have a quality top-to-bottom skiing product."
Colder temperatures required for producing man-made snow are forecasted the next few nights. This may allow Killington to crank up the world's largest snowmaking system to complement the abundance of natural snowfall that blankets the upper portions of Killington Peak.
"The key is getting a quality base on the lower portions of the mountain to be able to provide top-to-bottom skiing," Rathbun added. "We have more than 300 snowguns ready to go as soon as the temperatures drop."
Killington Resort averages 250 inches of snow each season, complemented by the world's largest snowmaking system covering 750 acres of the resort's 1,209 acres of total skiable terrain.