Snow Dancing at Burke Mountain
EAST BURKE, Vermont ??" In anticipation of the what could be the most substantial snow storm all season, the local school groups along with a number of Burke guests and employees, held the first ever snow dance ritual this afternoon. Dressed in costumes of all sorts; students, guests, and employees gathered around the bonfire for ten seconds of silence to pray to the snow gods, before chanting and dancing along with Burkie the Bear, in hopes of a big storm before the upcoming school vacations. Meteorologists are predicting accumulation of up to eight inches before the storm subsides, and with a little help from many Burke enthusiasts, perhaps a bit more will fall.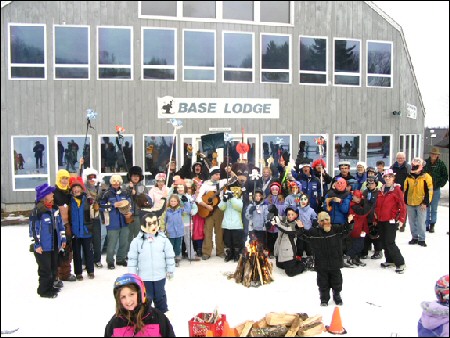 Snow Dance at Burke Mountain – 2/9/2005
(Photo: Courtesy of Burke Mountain)
For Burke trail conditions, visit the Burke website at www.skiburke.com or call the toll free snow phone at 888-BURKEVT.