Snow Making Begins at Seven Springs
CHAMPION, Pennsylvania ??" It won't be long before winter arrives in the Laurel Highlands. The cold temperatures and the long range forecast have put the mountain crew in action at Seven Springs Mountain Resort.
Early Thursday morning snow making towers on several slopes and trails were put into operation. "The weather is providing good conditions today and tomorrow for making snow. Our forecast shows a moderation of temps over the weekend, but snow making opportunities will return early next week," comments Robert Duppstadt, public relations manager at the resort.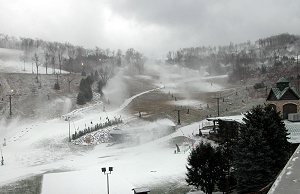 Seven Springs Mountain Resort operates snowmaking
towers in preparation for opening the ski slopes.
(Photo: Seven Springs Mountain Resort)
Seven Springs traditionally targets Thanksgiving weekend for an opening date for skiing and snowboarding. "We can't say when we will open at this time, but we assure winter sports enthusiasts that we will open as soon as possible. I recommend checking the web site for the latest information on when the slopes will open," adds Duppstadt.
The resort has a full schedule of events slated for the upcoming holiday weekend and beyond. Seven Springs offers a Thanksgiving Buffet from 12 Noon to 8 p.m., Poco, Pure Prairie League and Firefall will be in concert on Friday November 25, Mon Valley Ski Club is showcasing the latest winter clothes in a fashion show on Saturday, November 26 at 12:00 Noon, and the Annual Kick-Off Party featuring PovertyNeck Hillbillies will take place Saturday night. If weather permits, the slopes may open to complete the schedule.