Subaru, PSIA, AASI and NSP Celebrate 10 Years Of Partnership
LAKEWOOD, CO ??" 2004 was a milestone year in the ten-year partnership between the Professional Ski Instructors of America (PSIA), the American Association of Snowboard Instructors (AASI), the National Ski Patrol (NSP) and Subaru of America, Inc. In September 2004, vehicle number 5,000 was sold to a member of the National Ski Patrol in Spokane, Washington.
"The long-term success of the partnership is due to mutual commitment and significant contributions to the benefit of all partners," says PSIA-AASI-NSP assistant executive director, Mark Dorsey. "We're grateful to Subaru for their dedication to the relationship and look forward to it continuing long into the future."
In 1995, Subaru of America, Inc. strengthened its already 20-year history in snow sports by developing a strong grass-roots relationship with PSIA-AASI and NSP. Their research identified potential vehicle buyers as being outdoor enthusiasts, including skiers and snowboarders. With their combined membership of 56,000, PSIA-AASI and the NSP were a natural fit.
"The relationship that Subaru has fostered with the NSP, PSIA and AASI is a benchmark for marketing affiliation success unmatched to date in the automotive industry," said Tim Bennett, director, marketing programs, Subaru of America, Inc. "We are truly grateful to our partners at the NSP, PSIA and AASI for allowing us to uniquely showcase our Subaru Symmetrical All-Wheel-Drive under real-world driving conditions. The quantifiable sales success that this partnership continues to deliver is further evidence of the success of the program."
Over the years, AASI, NSP, and PSIA promoted Subaru brands aggressively to the associations' members through in-house print advertising, brochures, ski and snowboard tips for television, and through additional promotional efforts on the associations' websites to ensure strong member awareness and inspire vehicle purchase. The associations' customer service personnel handle member inquiries and generate leads that are fulfilled by Subaru and their dealer base.
Subaru creates decaled "signature vehicles" for AASI, NSP, and PSIA. These vehicles are distributed to members of the associations' boards of directors, and to those responsible for running the associations' geographic divisions. These "mobile billboards" are used and are present at major consumer events, from Alaska to the Carolinas.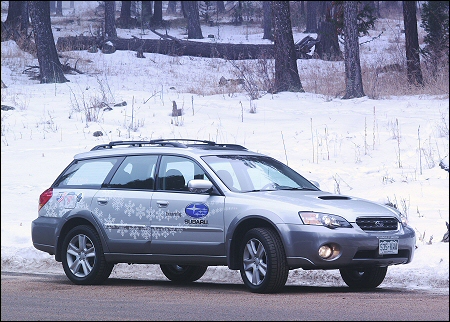 2005 Subaru Outback
(Photo: Courtesy of NewsCom)
Reaching consumers directly on the slopes, AASI and PSIA create and distribute Subaru "Tip of The Day" cards for member instructors to hand out to their students during lessons. These cards illustrate ski, snowboard and terrain park tips with space on them for instructors and students to make notes and use as a reference for their next lesson. Starting in 1995, 25,000 cards were distributed annually with their popularity increasing to this season's print run of 110,000 cards.
In 1997, the Subaru/PSIA/AASI/NSP partnership received top honors with the Keystone Awards for Excellence in Membership, awarded by the American Society of Association Executives. The program was recognized in the category of "Best Non-Dues Revenue Program," with the winners being chosen for use of innovative tools and tactics to enhance membership development and retention.
Other highlights of the ten-year relationship include a series of Subaru "Master the Mountain" ski and snowboard instructional tips for television, Master the Mountain instructional camps for ski areas, collaboration on a video for consumer snowsports and auto shows, and support of PSIA-AASI national demo teams with participation at team training events.