Sugarloaf to host second annual Sugarloaf Banked Slalom, March 10-11
CARRABASSETT VALLEY, Maine – New England snowboarders will face the ultimate test of skill and agility at the second annual Sugarloaf Banked Slalom , March 10-11, 2012.
Organized in part by two-time Olympic gold medalist Seth Wescott, the Sugarloaf Banked Slalom captures the soul and laid-back nature of snowboarding in the Northeast, while allowing snowboarders of all ages and skill-levels to compete on the same course as legends of the sport like Wescott.
A pair of Olympic gold medalists took home two of the top three spots in the inaugural Sugarloaf Banked Slalom last season, with Wescott finishing in third and Ross Powers, the 2002 Olympic gold medalist in halfpipe, taking home the title.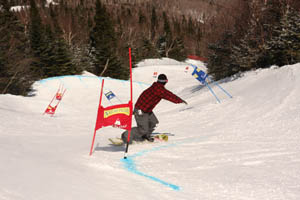 Based on the model of the Mt. Baker Legendary Banked Slalom , the Sugarloaf Banked Slalom is a snowboard-only, open registration event, in which snowboarders young and old compete on a winding course of banked turns down Sugarloaf's storied terrain.
The Mt Baker Legendary Banked Slalom is widely considered to be the first ever organized snowboard competition, and it eventually gave birth to the sport of snowboardcross. Wescott holds the only two Olympic snowboardcross gold medals ever awarded.
"The banked slalom is something that we always thought would be a great fit for Sugarloaf, and it was incredible to see the vision come to life last year," Wescott said. "We had kids as young as eight years old competing on the same course as a superstar like Powers, and they all finished with huge smiles on their faces. It's truly a great event for everyone."
New for this year, the Banked Slalom will feature a two-day format. Saturday, March 10 will feature an elimination round, where the field of 200 riders will be culled to the fastest 150, who will all move on to Sunday's final round.
On Sunday, March 11 each rider will have two runs, with the faster of the two counting in the final standings. The Banked Slalom will feature five different age categories for both men and women, and prizes will be awarded to the top three finishers in each category. There will also be prizes awarded to the top three overall finishers.
The Banked Slalom course will be located on Sugarloaf's "Double Bitter" trail, and will be open to all riders on Friday, March 9 for an optional inspection run on Friday.
Registration for the Sugarloaf Banked Slalom is $60 per rider, and is currently open online at www.sugarloaf.com . Registration will be capped at 200 riders. All registrants will receive a commemorative tshirt and are invited to a pre-event welcome party at The Rack on March 9.
Registration: http://sugarloafbankedslalom.eventbrite.com/ .
FMI: http://www.sugarloaf.com/Events/Calendar/Banked_Slalom.html .
Download Photos: https://sugarloaf.imagerelay.com/sb/e6019640-50f9-11e1-a85b-12313b07d511
Contact: Ethan Austin, Sugarloaf Communications Manager: 207-237-6899
##
About the Sugarloaf Resort- Located in Carrabassett Valley, ME, Sugarloaf is largest ski area in the East, and is home to the only lift-serviced above treeline skiing and riding in the East. and the number one golf course in Maine, according to Golf Digest. Sugarloaf is a member of the Boyne Resorts family of resorts and attractions. Follow: www.sugarloaf.com , www.facebook.com/sugarloaf , and http://twitter.com/sugarloafmaine .