Sugarloaf's Gondola Mid Station Fades into History
CARRABASSETT VALLEY, Maine — Waves of nostalgia are sure to sweep over Sugarloafers everywhere as a piece of the Sugarloaf landscape fades into the history books and a new era begins. Work is expected to begin by Sept. 1 to dismantle the gondola mid station building that has stood high on the mountain for more than 40 years.
"This is the first step in a new era for Sugarloaf," said John Diller, general manager of Sugarloaf/USA. "For most of our guests, the mid station is, quite frankly, an eye sore. Removing it improves the skiing and riding on the Gondola Line trail and the aesthetics of the resort as a whole." At this time there are no plans to install a new lift on the former gondola's path.
"Boyne USA Resorts is committed to taking Sugarloaf to a new level of excellence, of which a big part is upgrading, removing or replacing aging infrastructure," Diller said. "This is only the beginning."
The steel and pre-stressed concrete panel structure will be dismantled and recycled leaving the Gondola Line trail open from top to bottom. Work is expected to be complete before the first snowfall of the season.
The Sugarloaf Gondola was built in 1965-66 and brought skiers from the base to the summit until 1988 when maintenance challenges prompted the lift's closure. In 1991, the gondola re-opened from the mid station to the summit and provided summit access until 1997 when it was replaced by the Timberline quad chairlift.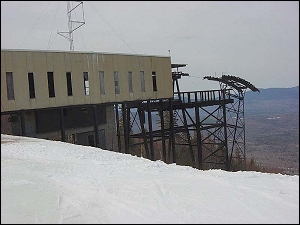 Sugarloaf's Gondola Mid Station