The "Big Guns" Blast at Attitash Kicking off Their 2007-08 Snowmaking Season
BARTLETT, New Hampshire — Attitash in Bartlett, New Hampshire fired up the "Big Guns", their newest state-of-the-art fan guns installed over the summer in a $2.5 million snowmaking enhancement project. Monday morning temperatures dipped to 20 degrees allowing for snowmaking to begin for the season. Illusion, Thad's Choice and Spillway trails were the primary targets for the first snowmaking push.
"This equipment is extremely efficient and produces a tremendous amount of snow in a short period of time allowing us to capitalize on these short cold spells," said Kevin Kasten, mountain operations manager. "We will continue to make snow at every opportunity possible from this point forward with the goal of opening terrain on both peaks as early as weather permits."
The new fan guns were installed on several premier trails including top to bottom on Illusion on Bear Peak as well as Moat, Spillway, Thad's Choice, Upper Highway, The Learning Center and the base area on Attitash.
Attitash plans to open as soon as possible in November with the goal of having open terrain on both peaks as well as terrain park elements set up in the Fly Zone Terrain Park. To follow the progress and view video of the snowmaking efforts visit www.attitash.com.
Attitash is part of Peak Resorts, owner and operators of 11 ski areas and 2 golf courses in 6 states. Peak Resorts Inc. is committed to building an enhanced resort experience at each of their properties. More information is available on the company's website www.peakresorts.com.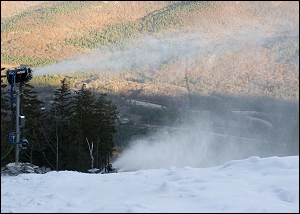 Fan guns blasting snow on Illusion, 10/29/07
(Courtesy Greg Keeler/Attitash)