The Wailers to Headline the Budweiser Reggae Fest at Sugarloaf/USA
CARRABASSETT VALLEY, Maine ??" The Wailers, arguably the biggest name in reggae, will headline the 17th annual Budweiser Reggae Festival at Sugarloaf/USA April 7-10. These legends of reggae will be joined by six other top name acts making this year's event one of the best collections of musical talent in its storied history.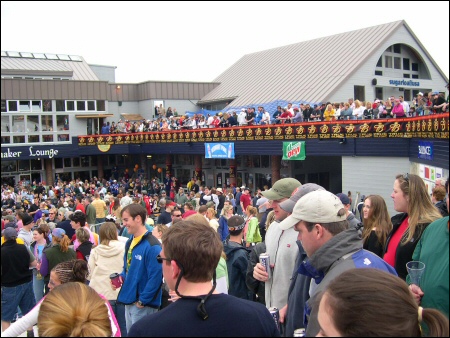 2004 Sugarloaf/USA Reggae Fest
"This spring is going to offer some of the best spring skiing Sugarloaf's had in years," said Karen Greene, Sugarloaf's brand manager. "That's why we went to extra steps to make this year's Reggae Festival complimentary to the awesome snow. This is by far the strongest line up Sugarloaf's ever had."
Joining The Wailers over the course of the long weekend are Mikey Dread, Black Rebels, Vibewise, Toussaint, Fear Nuttin Band, and Pressure Cooker.
The spring time reggae festival that has become popular throughout ski country was born at Sugarloaf. The event got its start in 1987 as a way to celebrate the changing of the seasons and truly enjoy the deep snow and warm sun that define spring skiing and riding. Today, the event has grown to be one of the most popular weekends of the year, drawing 10,000 or more reggae and spring skiing fans.
Live reggae performances will begin Thursday night, April 7 with Pressure Cooker in the Widowmaker Lounge. On Friday night, the Black Rebels will open for Mikey Dread in the King Pine Room. Toussaint and the Fear Nuttin Band will play in the Widowmaker.
On Saturday, the Black Rebels, Vibewise and Toussaint will perform outside on The Beach. After the sun goes down The Wailers will be joined by Vibewise in the King Pine Room. Fear Nuttin and Mikey Dread will take to the Widowmaker stage on Saturday evening as well.
All daytime performances on The Beach are free. Tickets for evening events are $25 each night for King Pine shows or $45 for both nights with advanced purchase. A limited numbers of tickets for Widowmaker Lounge performances we be offered for an additional $10 each night at the door.
Ski and Stay Packages are available starting at $99 per person per night in condos Friday and Saturday nights. Call 1-800-THE-LOAF or log on to www.sugarloaf.com for more information and to make your reservations today.