Vermont Ski Areas Associaton Honors Foster Chandler and Jacques Couture
WEST DOVER, Vermont ??" Long-time ski industry marketing guru Foster Chandler and North Troy farmer and sugar maker Jacques Couture have been honored by the Vermont Ski Areas Association (VSAA) for their contributions to the Vermont ski industry. Chandler received the Industry Achievement Award and Couture the Friend of the Industry Award during the VSAA Annual Meeting this week at Mount Snow Resort.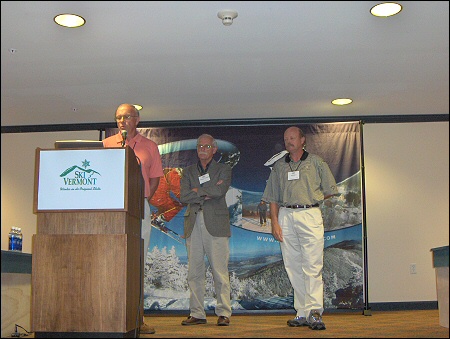 Foster Chandler Honored
(Photo: Courtesy of Vermont Ski Areas Association)
Couture has long supported VSAA by hauling a full-sized sugarhouse to places like Central Park in New York City and each year to the Boston Snowsports Exposition as Vermont's ski areas partner with Maple Producers to strengthen the Vermont brand.
"It's just great to be in the middle of the Bay Expo in Boston and look over to see Jacques dispensing samples of Vermont Maple Candy and other Vermont products to the thousands of visitors to those shows," said VSAA Chair and Jay Peak Resort President Bill Stenger in presenting the award. "And Jacques makes the time to help us while still tending to all the chores associated with sugaring and dairying!"
Foster Chandler pioneered modern ski area marketing while serving as marketing president for Killington and then S-K-I Ltd., which owned Killington and Mount Snow in Vermont before being acquired by American Skiing Company. Killington President Allen Wilson and Stowe President and former Killington chief executive Hank Lunde recounted Chandler's dedication to growing the entire industry while building Killington from the ground up.
"Most of the modern marketing techniques and programs in the industry had their beginning with Foster," noted Wilson. "From developing the mid-week ski vacation to cooperative advertising, Foster was the driving force."
"His was the last light out at the end of every long day," recalled Lunde. "He is a remarkable man in a remarkable industry and we're very fortunate that he found his way to Vermont."