Sherbie – Mount Washington 3/26/2022
Had a great day skiing on Mount Washington on 3/26/2022. Sorry for the late TR been working like crazy lately. Skinned up the TRT to base of Hillman's. Descended Sherbie to 1/2 way then skinned up and did it again but went all the way to the bottom. Started my day at 6:20 skinning, was at HoJo's before 8. Done for day by 10ish. See full video VLOG below: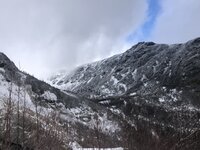 Wildcat was looking...
Read more