Jackson Hole 2/22-2/25/21
Started off with Apres Vous at the 8:30 opening bell and enjoyed a mix of groomers and woods between there and Teton chair for an hour or so. A few fresh inches fell overnight and everything was skiing beautiful to start. Lots of fresh tracks to be found in Washakie Glade.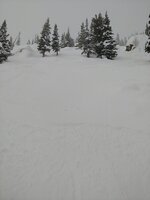 Around 9:30 I headed over to Thunder and was able to get a few good runs in before the line became too much, especially with Sublette on wind hold...
Read more